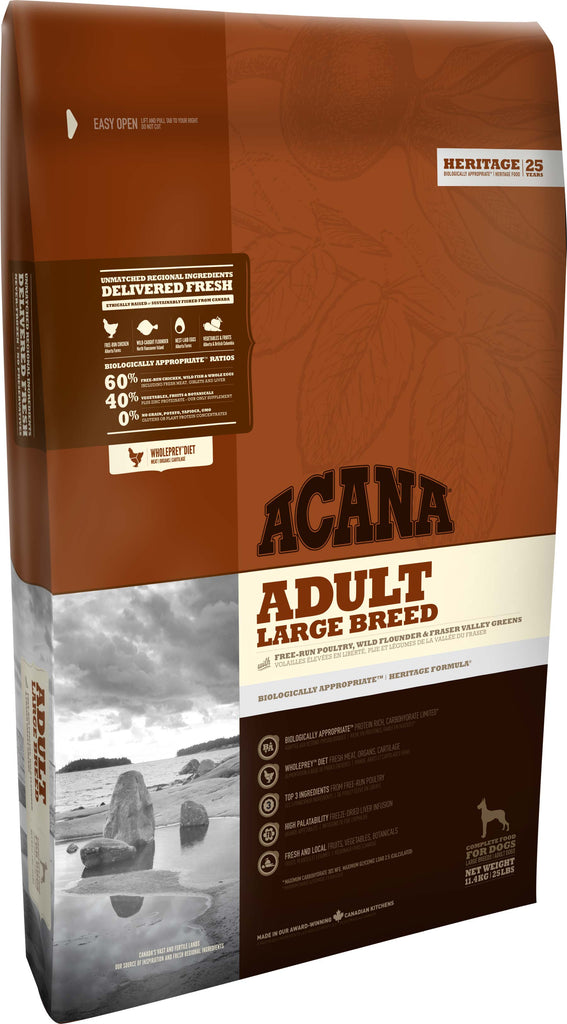 Acana
ACANA HERITAGE Large Breed Adult Dog Food
---
FOR ADULT DOGS OVER 25 KG
Just like his wild cousins, your large breed dog is a carnivore, possessing a biological need for a diet rich and varied in fresh whole meats.
That's why we loaded ACANA Adult Large Breed with free-run chicken, wild-caught flounder and nest-laid eggs, in WholePrey™ ratios that nourish naturally, without long lists of synthetic additives.
Because excess weight can stress bones and joints, ACANA is free of fast carbohydrates such as tapioca or potato, providing extra meat proteins to promote lean muscle mass while managing body fat.
Prepared in our award-winning kitchens from Canada's best and freshest ingredients, Biologically Appropriate™ ACANA keeps your big dog healthy, happy and strong — guaranteed.
Read our ingredients and you'll be happy too!
BIOLOGICALLY APPROPRIATE
MEAT-BASED FOODS THAT MIRROR YOUR DOG'S EVOLUTIONARY DIET.
The gray wolf is ancestor to all dogs. And while years of breeding has produced hundreds of 'different looking wolves', the internal workings of modern dogs and their wolf cousins remain unchanged, so it's no surprise that their dietary needs remain the same too.
Our award-winning Biologically Appropriate™ philosophy is simple: mirror the quantity, freshness and variety of meats that dogs are evolved to eat, while limiting the carbohydrates and synthetic ingredients that don't belong in your dog's natural diet.
CANADA'S BEST AND FRESHEST INGREDIENTS
ACANA Adult Large Breed features an unmatched variety of local ingredients that are raised or fished by people we know and trust, deemed "fit for human consumption", and then delivered to our award-winning kitchens fresh each day!
Fresh chicken meat (13%), chicken meal (12%), turkey meal (11%), red lentils, whole green peas (8%), field beans, fresh chicken giblets (liver, heart, kidney) (4%), herring meal (4%), fresh whole eggs (4%), fresh whole flounder (4%), herring oil (3%), chicken fat (3%), sun-cured alfalfa, green lentils, whole yellow peas, pea fiber, fresh chicken cartilage (2%), dried brown kelp, fresh whole pumpkin, fresh whole butternut squash, fresh whole parsnips, fresh kale, fresh spinach, fresh mustard greens, fresh turnip greens, fresh whole carrots, fresh red delicious apples, fresh Bartlett pears, freeze-dried chicken liver, freeze-dried turkey liver, fresh whole cranberries, fresh whole blueberries, chicory root, turmeric, milk thistle, burdock root, lavender, marshmallow root, rose hips.
SUPPLEMENTS: Zinc chelate. Vitamin E (preservative).
DESIGNED FOR CARNIVORES
They might look different, but your dog shares his anatomy with the grey wolf – which means he's evolved as a carnivore and adapted for a diet rich in meat, protein, and fat.
Based on this biological fact, and to produce a nutritional analysis that mirrors the diet Mother Nature would provide for your dog, ACANA features richly nourishing proteins and fats, while limiting unwanted carbohydrates.
GUARANTEED ANALYSIS
Crude protein (min.) 31%
Crude fat (min.) 15%
Crude ash (max.) 7%
Crude fibre (max.) 6%
Moisture (max.) 12%
Calcium (min.) 1.4%
Phosphorus (min.) 1.1%
Omega 6 (min.) 2.4%
Omega 3 (min.) 1.2%
EPA (min.) 0.4%
DHA (min.) 0.4%
Glucosamine (min.) 1500 mg/kg
Chondroitin sulfate (min.) 900 mg/kg
Linoleic Acid (min.) 2.2%
Carbohydrate (NFE) 29%
CALORIE DISTRIBUTION
Unique compared to conventional foods, ACANA delivers more calories from protein and fat and fewer calories from carbohydrates, reducing the risk of obesity and promoting your dog's peak health.
Metabolizable Energy is 3375 kcal/kg (405 kcal per 250ml/120g cup), with 32% from protein, 30% from fruits and vegetables, and 38% from fat.
---
Share this Product
---
More from this collection