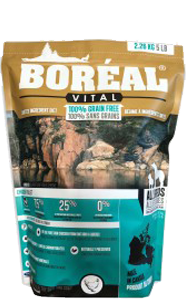 Boreal
BOREAL Dog Food - VITAL Chicken
---
BORÉAL
VITAL
100% Grain Free, Gluten Free
Single Source Protein
Limited Ingredient Formula
Low Carb Canadian Peas and Beans
Organic Zinc for Healthy Skin and Coat
Using primarily Canadian ingredient sources, Boréal dog foods will allow you to control the protein and carb sources you feed and help keep weight off and your dog's energy levels where they belong. Most of our foods use a single source protein, and we lean heavily on peas and beans to keep our foods healthy. We have added an antioxidant and a probiotic package to our blends to cover not only taste, but digestion and health concerns.
We are trying to reduce the wrong kind of carbohydrates and really focus in on low GI – glycemic index – starches. By basing our foods on low GI foods like peas, beans and single protein meat sources we think your pet will feel full longer after they eat and the diet will help keep blood sugar levels from fluctuating. Add in the right amount of exercise and we think this is a smart way to feed your pets.
We add Availa®Pet, an easily absorbed trace mineral package containing zinc, iron and manganese to all our pet foods for important health benefits.
VITAL ALL-BREED CHICKEN MEAL
Boréal Vital All Breed Chicken is a grain free diet with a limited ingredient list and single source protein. This is an everyday diet, which can be used to help keep weight off your dog and additionally can be used as a hypoallergenic formula. Using a core of beans and peas to replace the grains found in many dog foods, our low glycemic index ingredients will help keep a dog feeling full longer after they eat. We use meal from free run chickens grown in Ontario and Quebec. This is a diet for all life stages and is grain and gluten free. Naturally preserved, we use Availa®-Pet from Zinpro Performance Minerals® and add Availa®-Zn, an organic zinc that will help skin and coat conditions, especially with Northern breeds.
INGREDIENTS
Chicken Meal, Peas, Northern White Pea Bean, Chicken Fat (Naturally Preserved with Vitamin E), Lentils, Pea Protein, Brewers Yeast, Beet Pulp, Green Peas, Flaxseed, Natural Liver Flavour, Whey Powder, Potassium Chloride, Dried Apple, Dried Carrot, Glucosamine Sulfate, Sodium Chloride, Ferric Methionine, Zinc Methionine, Vitamin E Supplement, Copper Sulphate, Folic Acid Supplement, Vitamin B12 Supplement, Vitamin A Supplement, Niacin Supplement, Selenium, Manganese Methionine, Calcium Pantothenate Supplement, Riboflavin, Vitamin K, Biotin Supplement, Vitamin D Supplement, Calcium Iodate.
GUARANTEED ANALYSIS
Protein (min) 27%
Fat (min) 15%
Fibre (max) 3.9%
Ash (max.) 7%
Calcium (min) 1.4%
Phosphorous (min) 1.04%
Moisture (max) 10%
Linolec Acid (Omega 6 EFA) 2.34%
Linolenic Acid (Omega 3 EFA) 0.29%
Zinc 100 ppm
Energy 3420 kcal/kg - 410 kcal/cup
---
Share this Product
---
More from this collection