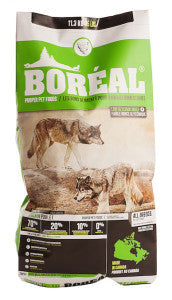 Boreal
BOREAL Dog Food - PROPER Chicken
---
BORÉAL
PROPER
Low Glycemic Healthy Grains - Oats and Barley
Low Carb Canadian Peas and Beans
Organic Zinc for Healthy Skin and Coat
Using primarily Canadian ingredient sources, Boréal dog foods will allow you to control the protein and carb sources you feed and help keep weight off and your dog's energy levels where they belong. Most of our foods use a single source protein, and we lean heavily on peas and beans to keep our foods healthy. We have added an antioxidant and a probiotic package to our blends to cover not only taste, but digestion and health concerns.
We are trying to reduce the wrong kind of carbohydrates and really focus in on low GI – glycemic index – starches. By basing our foods on low GI foods like peas, beans and single protein meat sources we think your pet will feel full longer after they eat and the diet will help keep blood sugar levels from fluctuating. Add in the right amount of exercise and we think this is a smart way to feed your pets.
We add Availa®Pet, an easily absorbed trace mineral package containing zinc, iron and manganese to all our pet foods for important health benefits.
PROPER CHICKEN - GRAINS WITH LOW CARBOHYDRATE
We believe that animal feed should avoid starchy ingredients that can lead to weight gain and obesity. An alternative to a grain-free diet is to choose a dog food that does not contain high-sugar grains such as corn and wheat. Some grains, such as split oats, are excellent for your dog and contain many beneficial properties. That's why, at Boreal, we have developed a range of dog food called Boreal Proper.
The low glycemic index of blunt oats and barley in the Central Ontario Menenonite farming area and the very low glycemic index of peas and white beans make it a fantastic ingredient. The grains selected for Proper feed have a low glycemic index. In addition, barley oats and barley are grown locally and have good value for money. Ontario's oats and barley are an important source of vitamins, minerals, low-glycemic carbohydrates, essential oils, fiber and protein.
We use a unique meat protein source in our Proper Dog Foods to facilitate digestion and reduce the risk of allergies. These foods are preserved naturally and are free of potatoes, wheat and corn.
Our natural Boreal dog foods contain organic zinc Availa®Zn. Availa® Zn is easily absorbed and 200 times more accessible for dogs than other zinc sources. Up to 66% of dog breeds, including most Nordic breeds such as the Huskies, benefit from a zinc diet in their diets. Zinc is essential for healthy skin and coat.
INGREDIENTS
Chicken Meal, Dehulled Barley, Green Whole Peas, Poultry Fat (preserved with mixed tocopherols, source of vitamin E), Steel Cut Oats, Northern White Pea Bean, Whole Flaxseed, Alfalfa Meal, Yeast Culture, Natural Chicken Flavour, Sodium Selenite, Potassium Chloride, Choline Chloride, Dried Apple, Dried Carrot, Ferrous Sulphate, Zinc Oxide, Vitamin E Supplement, Copper Sulphate, Folic Acid Supplement, Vitamin B12 Supplement, Vitamin A Supplement, Niacin Supplement, Selenium, Manganese Oxide, Calcium Pantothenate Supplement, Riboflavin, Biotin Supplement,Vitamin D Supplement, Calcium Iodate, Zinc Methionine Complex, Manganese Methionine Complex, Copper Lysine Complex, Cobalt Glucoheptonate
GUARANTEED ANALYSIS
Protein (min) 27%
Fat (min) 15%
Fibre (max) 3.9%
Ash (max.) 7.5%
Calcium (min) 1.58%
Phosphorous (min) 1.2%
Linolec Acid (Omega 6 EFA) 2.269%
Linolenic Acid (Omega 3 EFA) 0.47%
Energy 3590 kcal/kg - 442 kcal/cup
---
Share this Product
---
More from this collection