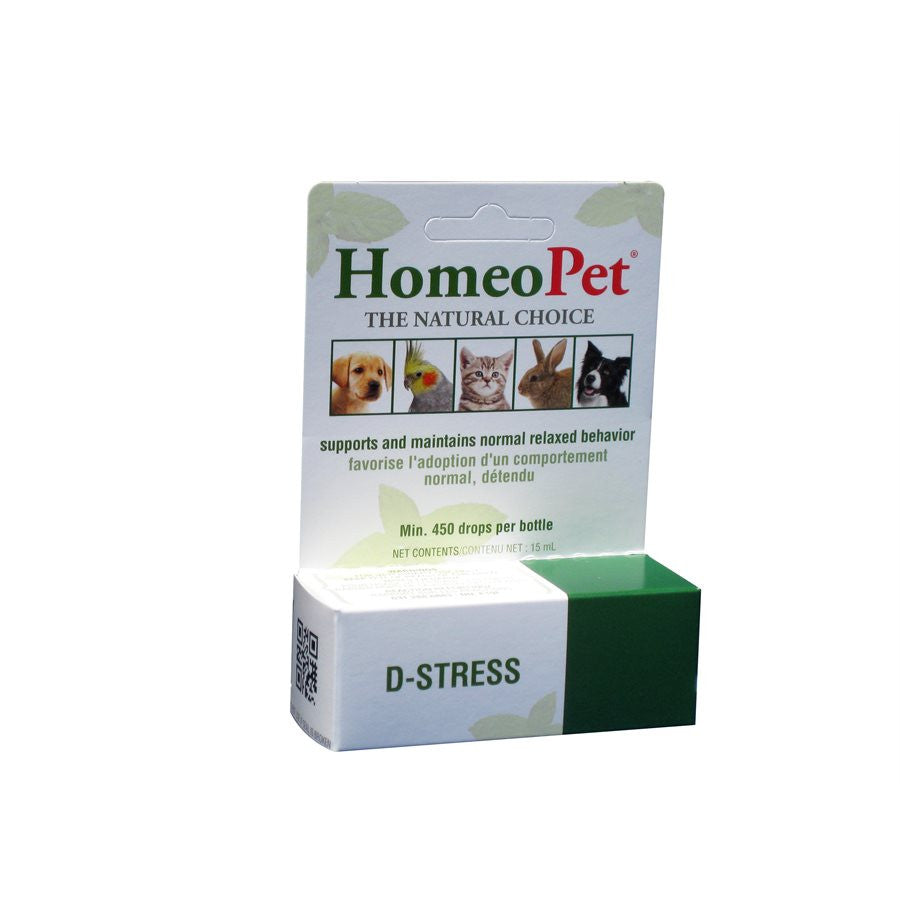 HomeoPet
HomeoPet - D-Stress
---

D-STRESS

Homeopathic remedy for relief of general anxiety in pets. Vet/grooming visits, kenneling and shows. Separation from familiar surroundings, introduction of new pets and most stressful situations causing barking, whining, crying, hiding, shaking and feather plucking in birds.
YOUR PET'S SYMPTOMS
Barking, whining, howling, yelping, crying
Pacing, panting, restlessness 
Hiding under table, in bathroom, behind couch 
Cowering, trembling, shaking 
Drooling, vomiting, pooping 
Destructive behavior 
Bolts, runs away
POSSIBLE CAUSES
Home alone/Separation
Boarding/Kenneling
Vet/Groomer visits
New arrivals to home
Strangers/Visitors
SUGGESTED REMEDY

DOSAGE:
DOGS/CATS: Under 20 lbs/10 kg, 5 drops; 21-60 lbs/ 10-30 kg, 10 drops; 61-100 lbs/ 30-45 kg, 15 drops; over 100 lbs/45 kg, 20 drops. In acute cases, the doses can be given every 15 minutes, up to 4 doses. For cases that are not acute, one dose 3 times daily; this is often best started 5-7 days before any situation causing anxious behavior, e.g. before kenneling. Once a response is seen, administration should be reduced to 2 times daily and eventually once daily. When symptoms clear up, discontinue use. If reduction causes symptoms to worsen, original dosing may be continued a little longer before reducing. If a remedy is working well and dosing is not reduced, an aggravation of symptoms from overuse may occur. Stopping the remedy for 3 days will reverse the symptoms, and then treatment can begin as if using for the first time, weaning down as mentioned above.
Pets Under 1 lb: 2 drops in the drinking water 3 times daily.
BIRDS: 2 drops in the drinking water once daily.
SMALL MAMMALS such as rabbits, ferrets, hamsters and pot bellied pigs can be dosed by weight as for cats and dogs in previous section. For severe cases a drop can be diluted in 1 ml of water or other oral rehydration fluid and given to the patient orally, taking care to avoid aspiration of the fluid into the respiratory tract by the patient. 3 doses whose volume is appropriate to the size of the patient should be given from the diluted product over a 24 hour period, e.g. 2 drops for a mouse or small budgie, 4 drops for a large guinea pig. For acute cases it can be repeated as for cats and dogs in previous dosing section.
---
Share this Product
---
More from this collection