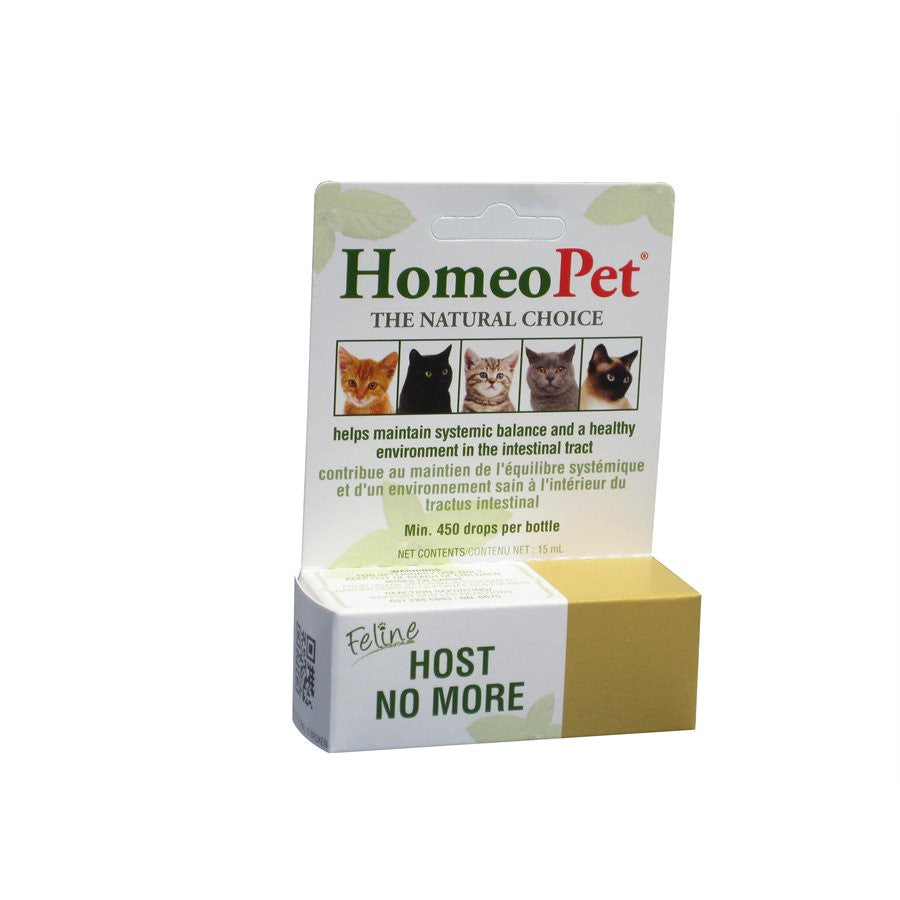 HomeoPet
HomeoPet - Feline Host No More
---

FELINE HOST NO MORE
Nature's Gentle Relief from Worms
Aids in the recovery from worm infestation.
Treatment of worm infestations where a drug-free approach is favored.
Debilitation caused by severe worm infestation where concurrent use with conventional wormer is indicated.
Reduces environmental contamination by suppressing worm egg production and thus reducing re-infestation.
Ingredients have drug monographs covering:
Tapeworms
Hookworms
Roundworms
Whipworms
YOUR PET'S SYMPTOMS
Worms at anus 
Shedding worms 
Scoots on ground 
Rice-like in stool 
Rice-like in backside
POSSIBLE CAUSES
Hookworms, roundworms, tapeworms, whipworms
SUGGESTED REMEDY
Feline Host No More (Liquid Drops)

DOSAGE:
Kittens - 5 drops, 3 times daily for 14 days. 
Adult Cats - 10 drops, 3 times daily for 14 days. 
Multiple cats - 5-10 drops per cat in community water, once daily for 14 days.
Felines under 1 lbs. 1-2 drops in water, 3 times daily. 
Prevention only: Use 3 times daily for 7 days, repeat every 60 days.
Remedy may be dosed directly in mouth, in water or on food/treat.
For Reccurent Worms (despite conventional drugs worming) 5 drops per cat twice daily for one month always seek advice to remove the source of infection e.g. with tapeworms, fleas may be the carrier acting as a reservoir.
---
Share this Product
---
More from this collection