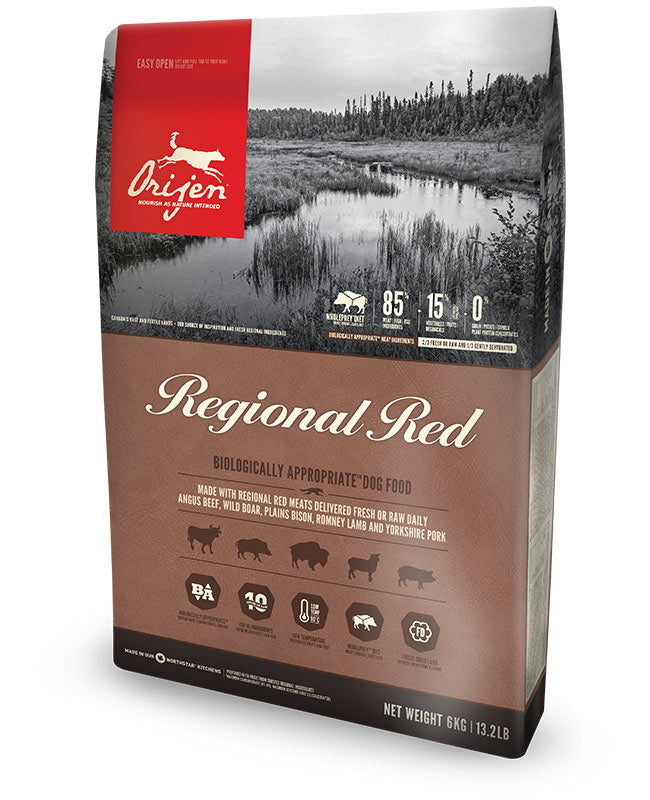 Orijen
ORIJEN Regional Red Dog Food
---
BIOLOGICALLY APPROPRIATE™ | ALL LIFE STAGES
FRESH ANGUS BEEF, WILD BOAR, PLAINS BISON, ROMNEY LAMB & YORKSHIRE PORK
FROM DACHSHUNDS TO GREAT DANES, ALL DOGS POSSESS A BIOLOGICAL NEED FOR A DIET RICH AND VARIED IN FRESH WHOLE ANIMAL INGREDIENTS.
With 38% richly nourishing protein and a limited 18% low-glycemic carbohydrates, REGIONAL RED nourishes all breeds and life stages according to their evolutionary and biological needs.

Unmatched by any other dog food, 2/3 of ORIJEN's meats are FRESH (refrigerated, no preservatives) or RAW (flash-frozen, no preservatives), including the top 10 meat ingredients.

1/3 of meats are gently dried at 90°C from fresh red meats and fish to create a concentrated source of richly nourishing protein that cannot be supplied by fresh meats alone.

Nutrient-dense WholePrey™ ratios of fresh meat, organs, and cartilage provide virtually every nutrient your dog needs to thrive – only zinc is added.

Infusions of freeze-dried liver enhance flavour naturally, making ORIJEN deliciously tasty, even for fussy eaters.
OUR BIOLOGICALLY APPROPRIATE™ PHILOSOPHY
The gray wolf is the ancestor and closest relative of all domestic dogs. While years of breeding have produced hundreds of 'different looking wolves', the internal workings of wolves and dogs remain unchanged so it's no surprise that their food requirements remain the same too. Our 5 Biologically Appropriate™ principles are simple and mirror the freshness and variety of meats that dogs are evolved to eat.
85% MEAT | 15% FRUITS & VEGETABLES
Fresh angus beef meat (11%), fresh wild boar meat (4%), fresh plains bison meat (4%), fresh or raw romney lamb meat (4%), fresh yorkshire pork meat (4%), fresh beef liver (4%), fresh beef tripe (4%), fresh whole pilchard (4%), fresh whole eggs (4%), fresh wild boar liver (4%), lamb (dehydrated, 4%), beef (dehydrated, 4%), whole herring (dehydrated, 4%), mutton (dehydrated, 4%), pork (dehydrated, 4%), fresh lamb liver (3.5%), fresh lamb tripe (3.5%), whole sardine (dehydrated, 3%), fresh pork liver (3%), whole red lentils, whole green lentils, whole green peas, lentil fiber, whole chickpeas, whole yellow peas, whole pinto beans, beef fat (1%), pork fat (1%), herring oil (1%), beef cartilage (dehydrated, 1%), beef liver (freeze-dried), beef tripe (freeze-dried), lamb liver (freeze-dried), lamb tripe (freeze-dried), fresh whole pumpkin, fresh whole butternut squash, fresh whole zucchini, fresh whole parsnips, fresh carrots, fresh whole red delicious apples, fresh whole bartlett pears, fresh kale, fresh spinach, fresh beet greens, fresh turnip greens, brown kelp, whole cranberries, whole blueberries, whole saskatoon berries, chicory root, turmeric root, milk thistle, burdock root, lavender, marshmallow root, rosehips, Enterococcus faecium.
ADDITIVES (per kg): Nutritional additives: Zinc chelate: 100 mg.
NOURISH AS NATURE INTENDED
Your dog shares his eating anatomy with the gray wolf – which means he's evolved for a diet rich and varied in fresh meat, protein and fat – not highly processed carbohydrates and starches.
GUARANTEED ANALYSIS
Crude protein (min.) 38%
Crude fat (min.) 18%
Ash (max.) 9%
Crude fiber (max.) 5%
Moisture (max.) 12%
Calcium (min.) 2%
Phosphorus (min.) 1.4%
Omega-6 (min.) 2.3%
Omega-3 (min.) 1%
DHA (min.) 0.2%
EPA (min.) 0.15%
Glucosamine (min.) 400 mg/kg
Chondroitin (min.) 250 mg/kg
---
Share this Product
---
More from this collection