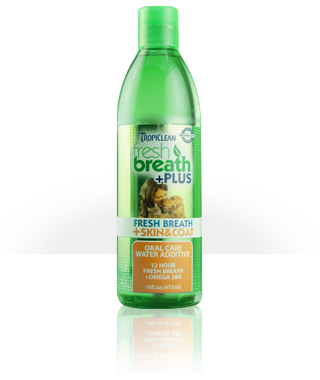 TropiClean
TropiClean Fresh Breath +Plus Skin & Coat
---
Skin & Coat
Omega 3 & 6 for healthy skin
Fresh Breath + Skin & Coat is enriched with Omega 3 & 6 to promote healthy skin and coat. These essential nutrients promote complete pet wellness and daily oral care in one easy-to-use product. Healthy skin and coat + 12 hours of fresh breath!
Fresh Breath +Plus is uniquely designed to clean teeth, freshen breath and promote complete pet wellness. Daily oral hygiene is essential to pet health. Without it, 70% of dogs and cats will start showing signs of periodontal disease by age three. When left untreated, oral disease can lead to serious health problems affecting the heart, lungs, kidney and other major organs.
Available Sizes
16oz
Directions
Shake well. Simply add one tablespoonful (one cap full) to your pet's water bowl (approximately 16oz) every time you refill it.
---
Share this Product
---
More from this collection