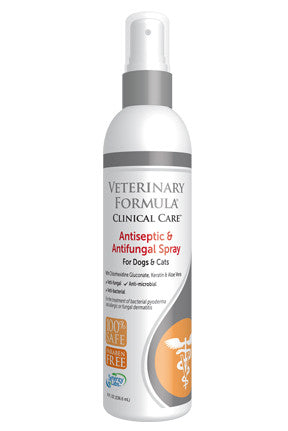 Synergy Labs
Veterinary Formula - Antiseptic & Antifungal Spray
---
Veterinary Formula Clinical Care
Antiseptic & Antifungal Spray
For Dogs & Cats

Anti-Fungal, Anti-Microbial, Anti-Bacterial
Deodorizes and helps relieve fungal and bacterial skin infections which can result from the following:
Allergies (flea, food, contact, hereditary)
Hormonal disorders such as hypothyrodism
Weakened immune system
Animals with short coats or skin folds
Trauma from gooming & scratching
Fungal infections such as ringworm
Use with Clinical Care™ Antiseptic & Antifungal Shampoo.
DIRECTIONS:
Spray affected area thoroughly & evenly until wet. Treat twice daily for one week, then once per day for one more week. If needed, continue every other day for 2 additional weeks. For topical use only on dogs & cats over 12 weeks. Avoid contact with eyes. If irritation develops, discontinue use & consult your veterinarian.
INGREDIENTS:
Water, Chlorhexidine Gluconate, Glycerin USP, Cetrimonium Chloride, Chitosan Succinamide (and) Hydrolized Keratin (and) Polyquaternium-10, Polysorbate-20, Tetrasodium EDTA, Fragrance, Aloe Barbadensis, D&C Red #33.
---
Share this Product
---
More from this collection